Like other Exploit Kits, Gong Da has add support for Oracle Java CVE-2013-1493 vulnerability, fixed in Oracle Java 6 Update 17, has also add support for Microsoft Internet Explorer CVE-2012-4969 and CVE-2012-4792 vulnerabilities, fixed in an emergency patch in September 2012 and January 2013.
Here is the new code for CVE-2013-1493.

And here the new code for CVE-2012-4792 (aka 4792.html) and CVE-2012-4969 (aka payload.html).

Also a new variant of CVE-2012-1889 (xml.html) has been introduced, reducing the detection rate by anti-viruses.

As always this new version of Gong Da Exploit Kit has been discovered on a Korean web site.
Gong Da Pack has involve to the following diagram.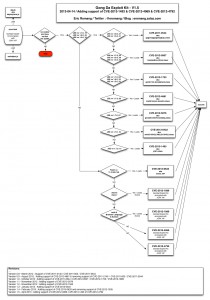 Here under some information s regarding the different files:
Normally Gong Da was used against gamers, but this time the loaded malware seem to be different (analysis on ThreatExpert)