Last release of Java SE 6, version 6 update 33(1.6.0_33-b03), was done the 12 Jun 2012 during quarterly Oracle Java CPU (Critical Patch Update). This CPU had fix 14 security vulnerabilities in previous JSE products versions 7, 6, 5 and 4. One of these vulnerabilities was CVE-2012-1723 how is actually used in Blackhole exploit kit.
Metasploit exploitation demonstration of CVE-2012-1723

Since few days you may have see a notification on you system asking you to update Java.

By getting details on the update you will see that Java SE 7 update 5 (1.7_5) is available and by installing this update your previous version of JSE will removed. However, if you wish to keep Java 6 you will need to update from the offline Java installer to the latest version of JSE, how is version 7 update 5. Hu ! What a choice, I have to update to version 7 or to update to version 7.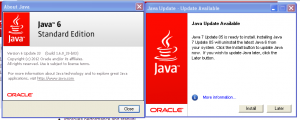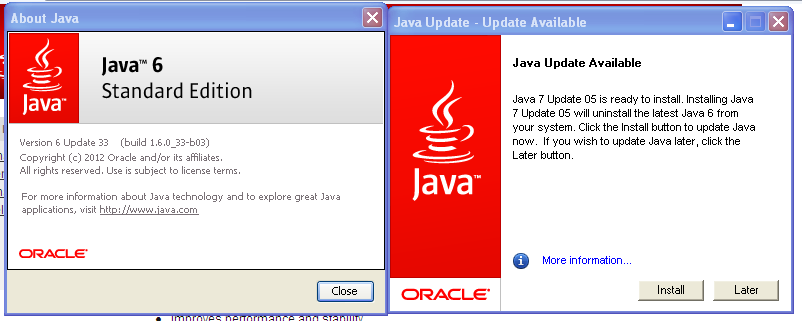 As you may know Java SE 6 will be no longer supported after November 2012.  The last Java CPU update is planned for 2012, October 12. After November 2012, Oracle will no longer post updates of Java SE 6 to its public download sites. For enterprise customers, who need continued access to critical bug fixes and security fixes as well as general maintenance for Java SE 6 or older versions, long-term support is available through Oracle Java SE Support . But it seem through this forced Java SE update to version 7 that Java SE 6 update 33 was the last one.
So we are encouraging you to plan a mega release on your infrastructures, cause Java SE 6 seem to be officially dead !